360° projection Domes
Immersive 360° projections that transform reality
Our projection domes create a completely immersive 360° degree virtual reality experience that fills the entire surface of the projection dome screen. The viewers are immediately carried into an alternative reality. This hi-tech solution provides marketers and promoters of all types of events with a limitless range of creative opportunities. Projections on the domeare exceptionally striking and attractive and are powerful promotional tools that stir the imagination, engage audiences, inspire emotions and offer a remarkable, unique experience.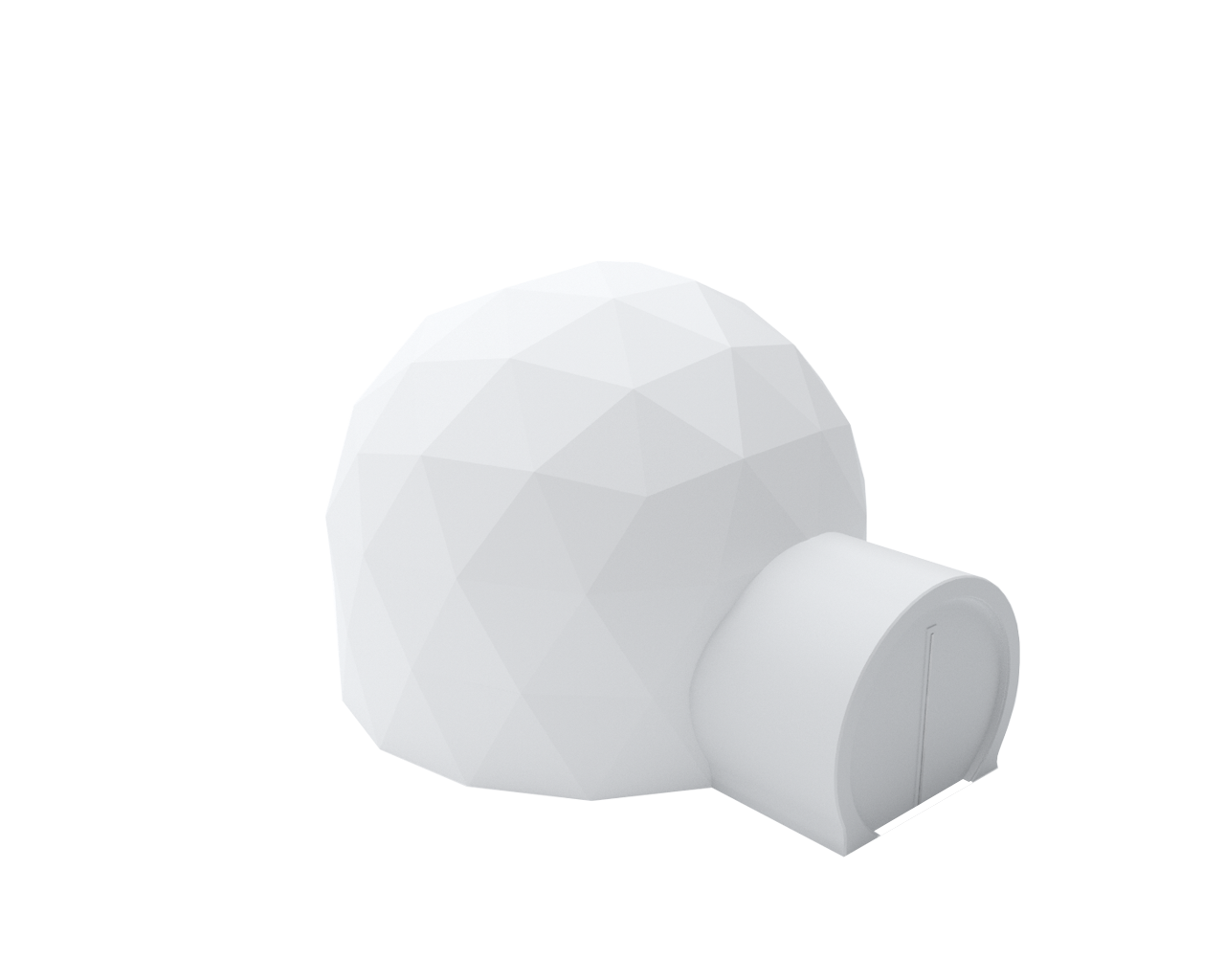 قباب عرض 360 درجة – فرصة تسويقية فريدة
تعمل قباب العرض المرئي المتكاملةعلى جذب الجمهور وإثارة المشاعر الشديدة. أنها توفر أكثر من مجرد الترفيه. إنها أدوات قوية تنتظر أن يستخدمها المعلنون ، لأنها تتيح تنفيذ أكثر الحملات التسويقية تعقيدًا.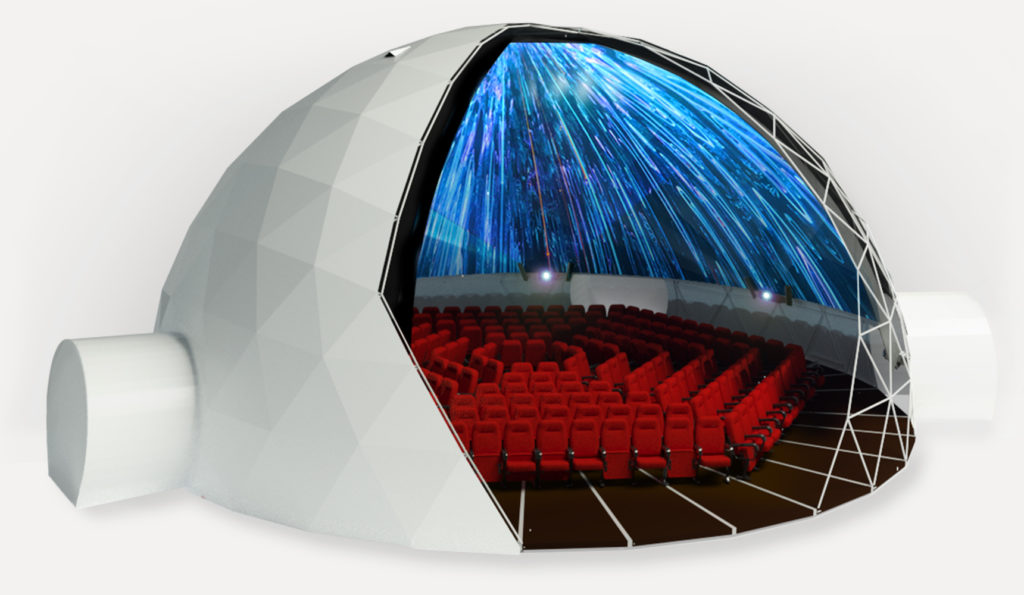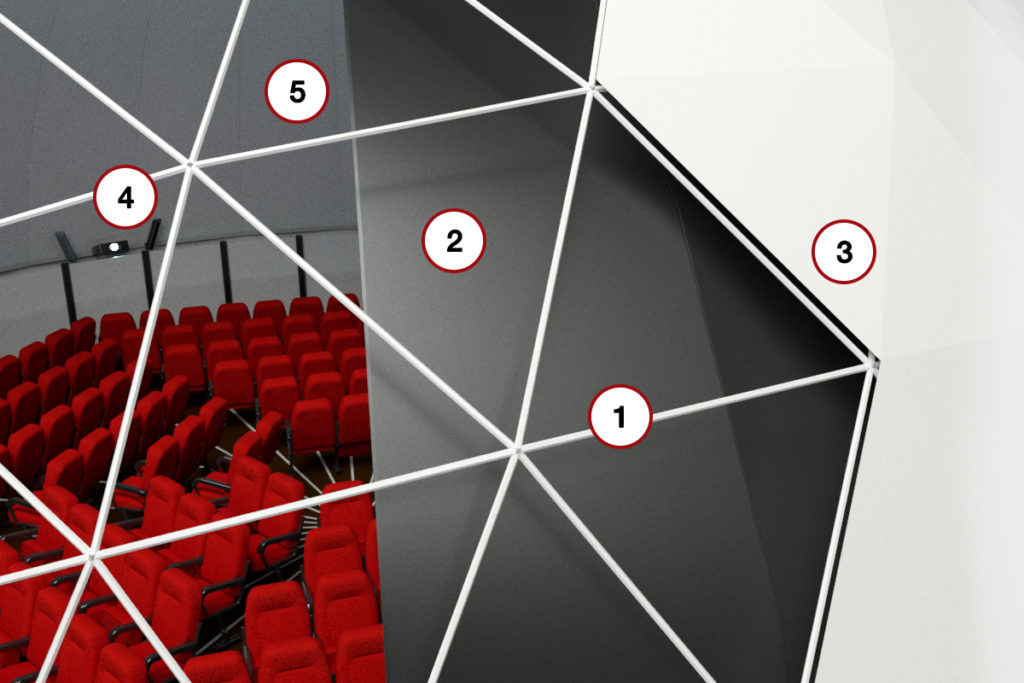 The strong structural support of a projection dome is based on its high-quality galvanized steel frame which is perfect for a 360° cinema dome which does not require inside walls or additional columns and supports.
The outside membrane or cover of a cinema dome is made of high-quality material that is both fireproof and waterproof as well as highly resistant to mechanical damage. It's most prominent feature is the outside cover is completely opaque – no natural lighting enters the dome. If there is available space, a projection dome can be set up either inside a building or outside where it is able to endure the toughest of weather conditions. The surface cover layer of a projection dome is also a great place for placing effective and aesthetic branding.
The inner membrane, the so-called projection liner, is an innovative, unique system developed by Polidomes. The inside lining as it is made of the same material used for screens in cinemas. The projection liner is installed and fits perfectly to the dome frame with the use of vacuum pumps.
The images presented on the projection dome screen are strikingly clear and realistic. The screen completely and smoothly covers the steel structure providing the audience with a chance to become fully immersed in the virtual reality presented.
Multimedia projections are accomplished using sets of Full HD/4K projectors, specialized calibrating software, and an independent Dolby 5.1 sound system with individual effect control to obtain the ultimate in audio-visual experience
10 سنوات من الخبرة في مجال عمل المناسبات
What are the possibilities for using the 360° projection domes?
Our 360° Projection Domes offer endless marketing opportunities. Both large companies and small enterprises use them for interactive video production as well as for promotional and advertising campaigns. Domes with projection screens are the perfect solution for large scale events such as open-air concerts, festivals, theatrical plays, exhibitions, trade shows and fashion shows. This futuristic technology leaves a lasting impression and helps deliver a prestigious company image during corporate retreats, bonding events, business meetings, events and conferences. They simply cannot be ignored – their unique look and the magnificent effects of the creative projections they offer allow immersive projection domes to transform any event into a spectacular adventure.
The 360° Projections carry the audience into an alternative reality experience
360° Projection Domes are also fantastic solutions for mobile planetariums or 5D cinemas, where high quality of image and sound and their authenticity is vital. These mobile cinema domes offer endless creative possibilities. This advanced technology has no limits – everything depends on the possibilities you imagine.
The breathtaking perspective and feeling of open space in projection dome tents will transform any multimedia show into an intense, emotion filled experience. An immersive projection dome makes it possible to watch the projection both horizontally (360°) and vertically (180°), which opens up exciting new forms of presentation. Dome projections along with the powerful Dolby Surround sound system immediately carry viewers into a completely different reality. Panoramic multimedia projections are nearly limitless in terms of creative options and offering materials that inspire deep emotions and will be long remembered by those who have experienced them.
[contact-form-7 404 "غير موجود"]